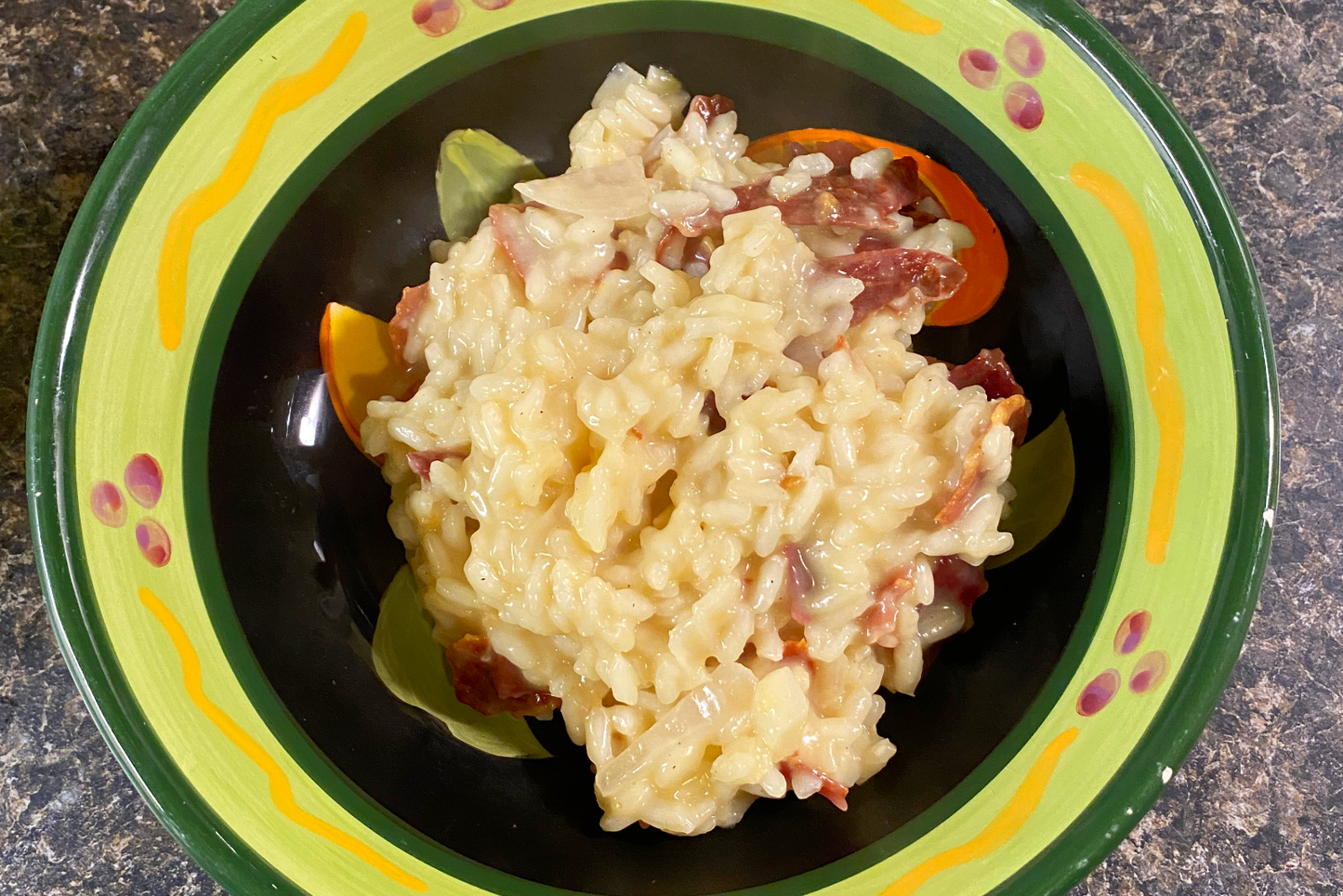 On the 12th day of olive oil, we made a creamy, Milan-style risotto and finished it with our single-varietal Alter Ego Itrana by @oliomarsicani, which is a perfect pairing because while the Itrana has loads of flavor, its bitterness and pungency profiles don't overwhelm the risotto. Don't worry if you don't have saffron threads; the risotto is also excellent without it.
Ingredients
6 to 7 cups chicken or vegetable broth, as needed ½ teaspoon saffron threads, optional 2 tablespoons Oro di Rufolo cooking EVOO ½ cup finely chopped onion Salt 1½ cups Arborio or Carnaroli rice ½ cup dry white wine Black pepper 4 ounces prosciutto, cooked until crisp and broken into pieces ⅓ cup freshly grated Parmesan cheese Alter Ego Itrana, to taste
Directions
1. Pour broth into a saucepan and bring to a simmer. Make sure that it is well seasoned but not overly salty. Put saffron in a small bowl and cover with 1 tablespoon hot water.
2. Heat cooking EVOO over medium heat in a wide heavy skillet or saucepan. Add onion and a generous pinch of salt and cook until onion is just tender, about 3 minutes. Do not brown. Add rice and stir just until grains begin to crackle, 1 to 2 minutes. Add wine and cook, stirring, until it has been absorbed.
3. Begin adding simmering broth, a couple of ladles at a time. Add saffron with soaking water with the first addition of broth. Broth should just cover the rice and should be bubbling. Stir often and vigorously. When broth has just about evaporated, add another ladle or 2 to just cover rice. Continue to cook in this way until rice is al dente, about 20 to 25 minutes. Add a little pepper, taste and adjust seasoning.
4. Add another ladleful of broth to the rice. Stir in crisp prosciutto; then stir in Parmesan and remove from heat. Mixture should be creamy. Drizzle Alter Ego Itrana on top. Serve right away.