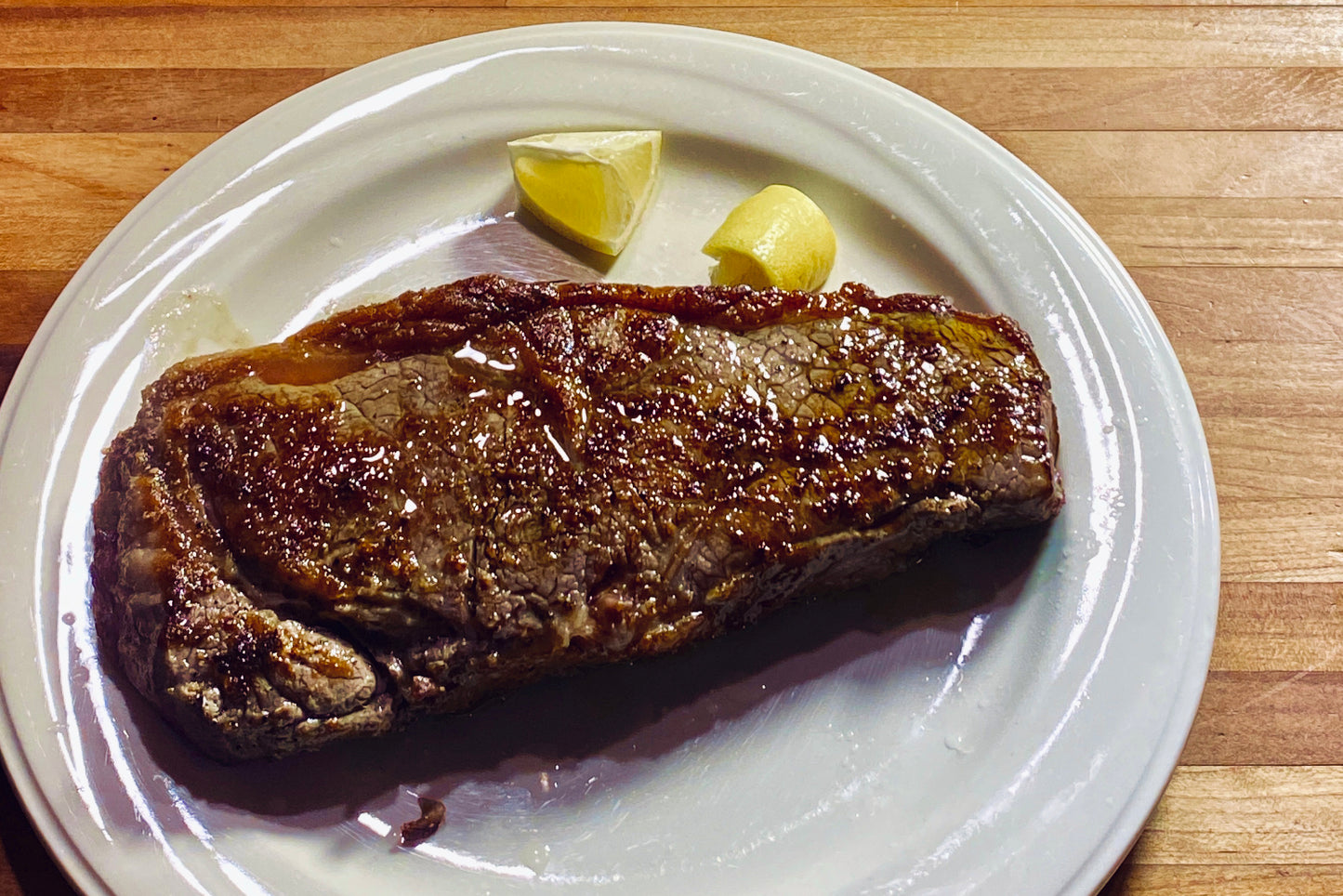 On the 9th day of olive oil, we used a cast iron pan to sear and cook New York strip steak and finished it with EVOO and lemon. Here, we want a robust olive oil to stand up to the strong flavor of the grilled steak so we are finishing the steak with single-varietal Coratina EVOO by @oliogangalupo.  Technique by @juliamoskin of the New York Times.
Ingredients
1-inch thick New York strip steak, trimmed
Kosher salt and freshly ground pepper
Olio Gangalupo Coratina EVOO
Lemon wedges
Directions
1. Remove packaging and pat meat dry with paper towels. Line a plate with paper towels, place meat on top and set aside to dry further and come to cool room temperature (30 to 60 minutes, depending on the weather). Turn occasionally; replace paper towels as needed.
2. Place a heavy skillet, preferably cast-iron, on the stove and sprinkle lightly but evenly with about ¼ to ½ teaspoon salt. Turn heat to high under pan. Pat both sides of steak dry again.
3. When pan is smoking hot, 5 to 8 minutes, pat steak dry again and place in pan.
4. Let steak sizzle for 1 minute, then use tongs to flip it over, moving raw side of steak around in pan so both sides are salted. Press down gently to ensure even contact between steak and pan. Keep cooking over very high heat, flipping steak every 30 seconds. After it's been turned a few times, sprinkle in two pinches salt. If using pepper, add it now.
5. When steak has contracted in size and developed a dark-brown crust, about 4 minutes total, check for doneness. To the touch, meat should feel softly springy but not squishy. If using an instant-read thermometer, insert into side of steak. For medium-rare meat, 120 to 125 degrees is ideal: Steak will continue cooking after being removed from heat.
6. Remove steak to a cutting board and tent lightly with foil. Let rest 5 minutes.
7. Drizzle with Gangalupo Coratina and give it a squeeze of lemon.