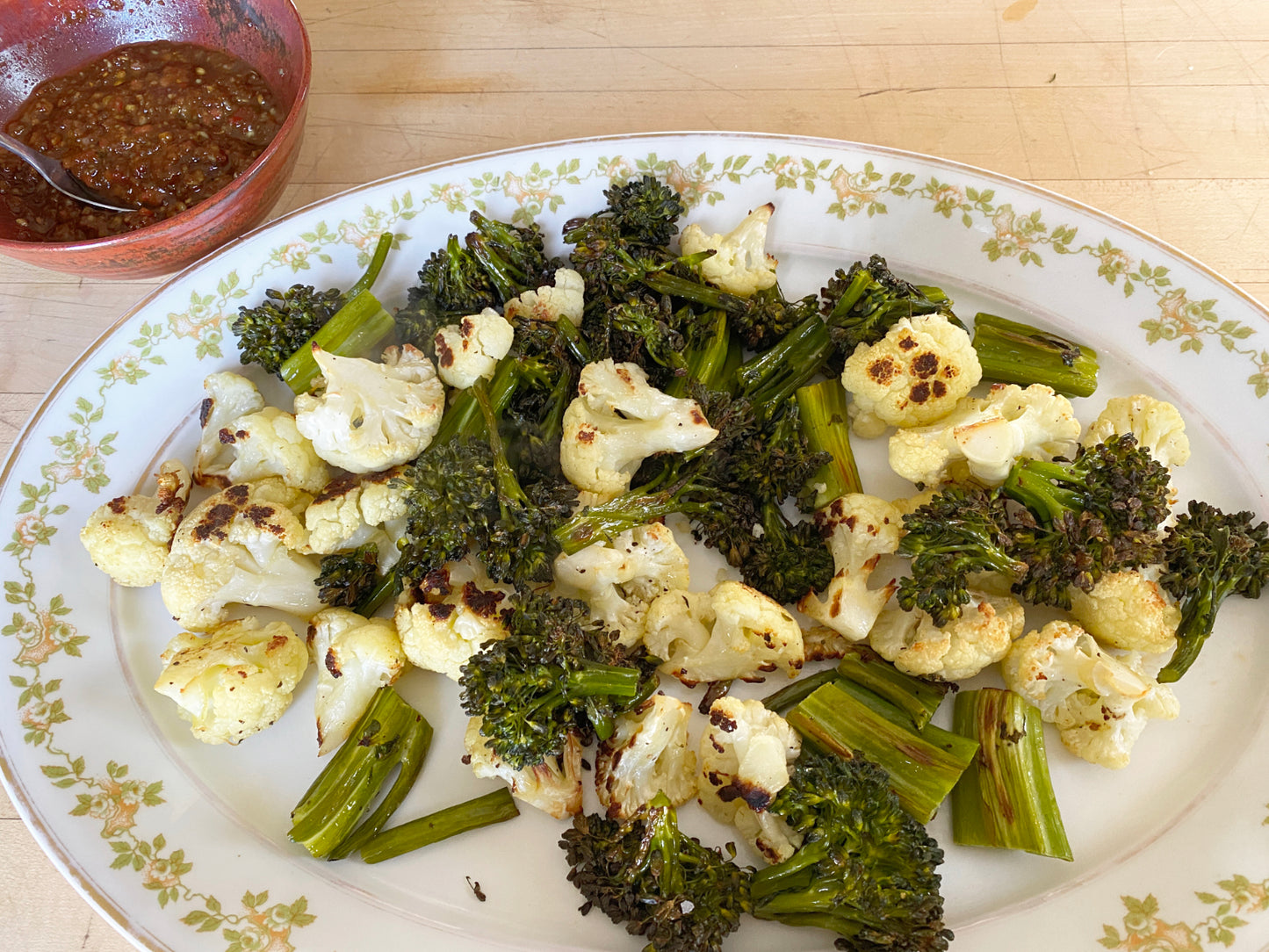 On the 11th day of olive oil, we made these delicious roasted vegetables with a version of Romesco sauce. We use @orodirufolo cooking EVOO to season the veggies and single-varietal Trappeto di Caprafico's Intosso EVOO from @tommasomasciantonio and our 10-year aged balsamic vinegar for the Romesco sauce.
Adapted from a recipe by @yewanda_komolafe for the New York Times
Ingredients
½ pound or more broccolini, trimmed and cut into 2½-inch-long pieces
1½ pounds cauliflower (about 1 large head), trimmed and cut into 2½-inch-long florets
¼ cup Oro di Rufolo cooking EVOO
Kosher salt (Diamond Crystal) and black pepper
¼ cup roasted unsalted almonds
2 garlic cloves, peeled
3 jarred roasted red peppers, drained (about 11 ounces)
1 teaspoon smoked paprika
½ teaspoon ground coriander
½ teaspoon ground cumin
1 tablespoon 10-year aged balsamic vinegar, plus more to taste
¼ cup Trappeto di Caprafico Intosso EVOO
Directions
1. Heat oven to 425 degrees. Place the broccolini and cauliflower on a sheet pan in an even layer. Drizzle with ¼ cup Oro di Rufolo cooking EVOO, toss to coat and season lightly with salt and black pepper. Roast until the vegetables are crisp and lightly browned around the edges, 25 to 30 minutes.
2. While the vegetables are roasting, in the bowl of a food processor, pulse the almonds and garlic until finely chopped. Add the roasted red peppers, smoked paprika, coriander, cumin, balsamic vinegar and ½ teaspoon salt, and pulse to incorporate. While the food processor is going, drizzle in ¼ cup Intosso EVOO. Turn off, taste and add more salt and balsamic vinegar to season if necessary. The sauce should be thick but spreadable and should easily drop off a spoon when lifted.
3. Transfer the hot roasted broccolini and cauliflower to a serving platter. Spoon the cashew romesco on top. Serve immediately.