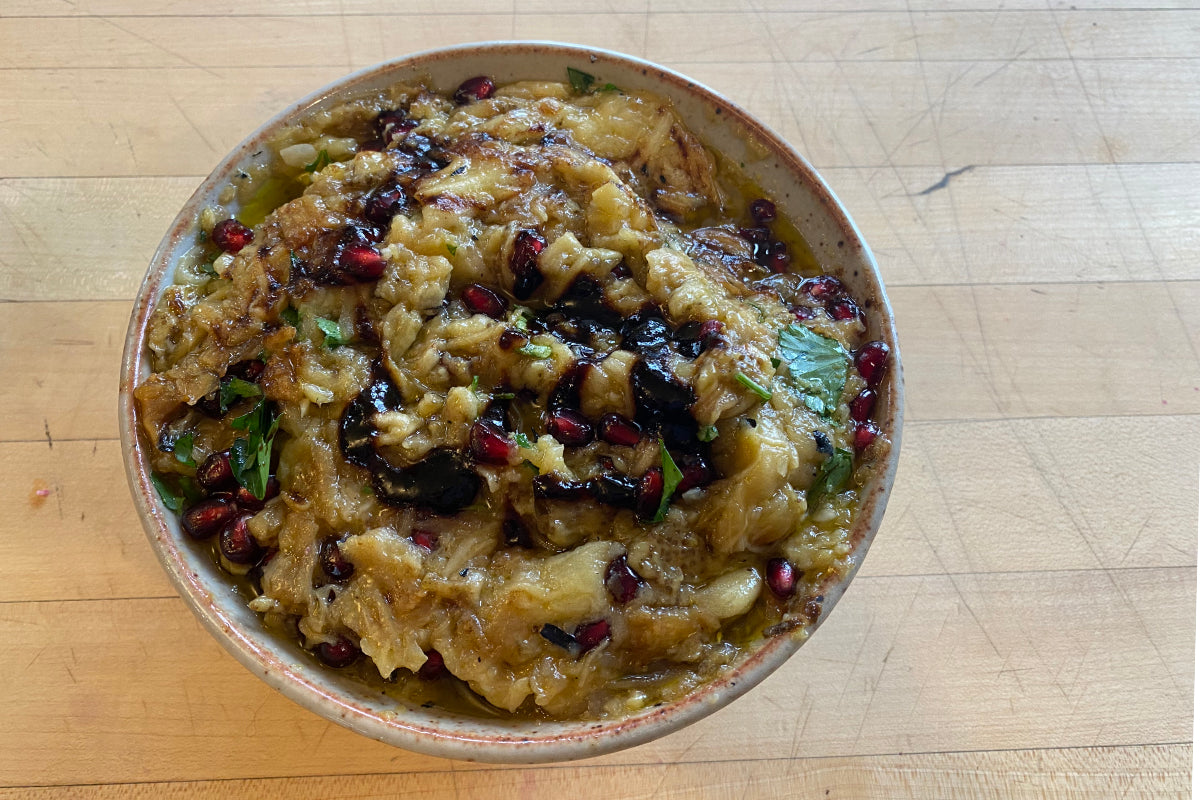 I adore baba ganouj and the eggplant in all its many delicious variations! This version of baba ganouj comes from @ottolenghi and is super bright with the addition of lemon and pomegranate seeds. We use @agrariamannelli single-varietal Moraiolo, which pairs beautifully with the burnt eggplant, and finish the dish with a drizzle of the Moraiolo and a splash of pomegranate molasses. We highly recommend you do the same.
Ingredients
4 large eggplants (about 3 ¼ pounds)
2 cloves garlic, minced grated
Zest of 1 lemon
2 tbsp freshly squeezed lemon juice
5 tbsp Azienda Agricola Mannelli Moraiolo extra virgin olive oil
2 tbsp chopped flat-leaf parsley
2 tbsp chopped mint (optional) seeds of 1/2 large pomegranate (scant ½ cup) salt and freshly ground black pepper
4 large eggplants (about 3 ¼ pounds)
Directions
1. Preheat the broiler to medium or high. Line a large baking sheet with aluminum foil.
2. Using a sharp paring knife, make deep gashes throughout the eggplant. Place the eggplants on the baking sheet.
3. Broil the eggplants for 40 minutes to an hour (rotating every 20 minutes) or until the eggplant skin has burnt evenly throughout and the insides have collapsed and are completely soft.
4. Remove the eggplant and let cool. Once it is cool enough to handle, cut an opening along each eggplant and scoop out the soft flesh, dividing it into long, thin strips. Discard the skin, and drain the flesh in a colander for at least an hour to get rid of as much moisture as possible.
5. Transfer to a cutting board and chop the flesh then transfer to a medium bowl.
6. Add the garlic, lemon zest and juice, 5 tablespoons Moraiolo olive oil, ½ tsp salt and a good grind of black pepper. Stir and allow eggplant to marinate at room temperature for at least an hour.
7. When you are ready to serve, mix in most of the herbs and taste for seasoning. Pile on a serving plate, scatter on the pomegranate seeds, and garnish with remaining herbs. Drizzle with olive oil and pomegranate molasses.
8. Serve with crusty bread, fresh pita bread or crackers.