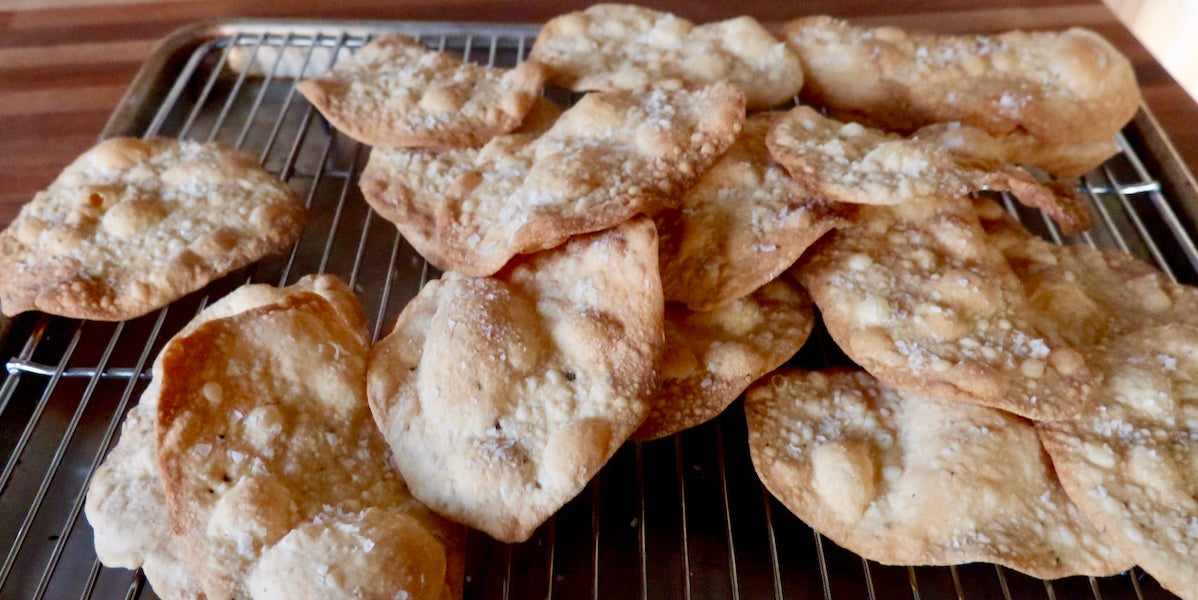 After a number of easy recipes, here's one that is a bit more work, but still not too much, and the results are addictive! This recipe is from the cookbook Ottolenghi by @ottolenghi and @sami_tamimi. We again use @orodirufolo cooking EVOO, which is a blend of Ogliarola and Coratina olives.
Ingredients
2 cups/ 250 grams all-purpose flour
1 teaspoon baking powder
Scant ½ cup/115 ml water
½ teaspoon salt
1 teaspoon paprika
¼ teaspoon cayenne
¼ teaspoon freshly ground black pepper
Coarse sea salt for sprinkling
Directions
1. In a large bowl, or a mixer fitted with a dough hook, mix together all ingredients except the sea salt to form a soft dough. Work it until you get a firm consistency, then cover and leave to rest in the refrigerator for an hour.
2. Preheat oven to 425 degrees. Turn the dough out onto a clean work surface. Use a large, sharp knife to cut off walnut size pieces (roughly ½ oz/ 15 g) from the dough. Roll out each piece as thinly as possible with a rolling pin, dusting with plenty of flour. Alternatively, use a pasta machine to roll out pieces of dough, then cut down to cracker sizes. The pieces should end up looking like long, oval tongues, almost paper-thin; although you can make them any shape you like.
3. Place the crackers on a baking sheet lined with parchment paper. Brush them with plenty of olive oil and sprinkle with sea salt. Bake for about 6 minutes, or until crisp and golden.