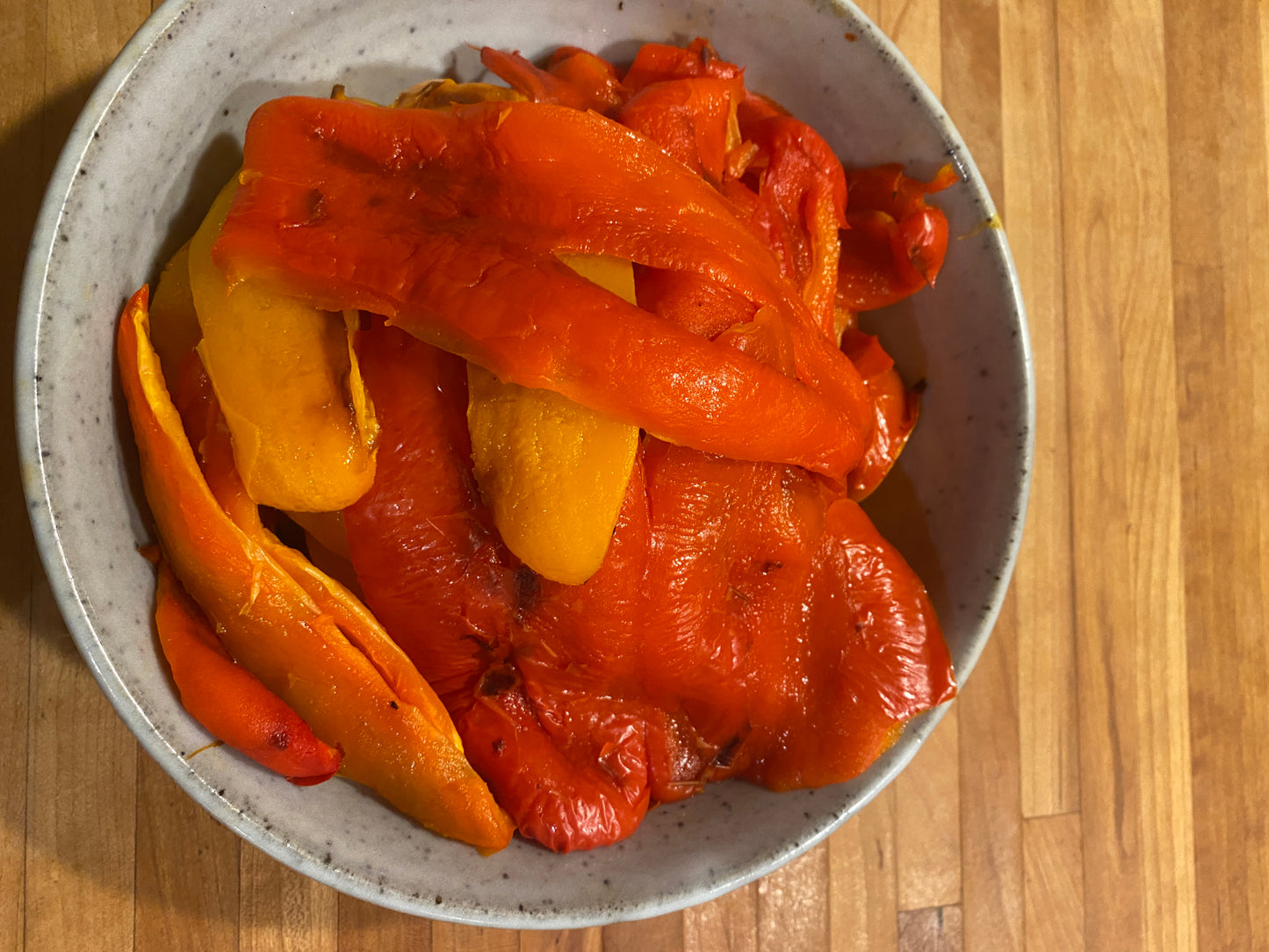 Today's Christmas recipe highlights the use of EVOO as a preservative and comes from one of our favorite cookbook authors, @domenicacooks, from her book Preserving Italy. While there are many excellent and unique recipes in Domenica's highly recommended book (like Cipollini in Agrodolce and Green Tomato Preserves), these peppers are a favorite. This is a GREAT use of our @orodirufolo cooking EVOO. It's surprisingly easy and unbelievably delicious. Seriously, give this one a try.
Ingredients
3 lbs ripe bell peppers
2 teaspoons small capers, rinsed
2 tablespoons finely chopped flat-leaf parsley
1 cup white wine vinegar
1 cup water
¼ cup sugar
1½ teaspoons fine sea salt
2 cloves garlic, sliced paper thin
Oro di Rufolo extra virgin olive oil
Equipment
2 sterilized 1-pint jars and their lids
Directions
1. Arrange an oven rack 4 inches below the broiler and preheat the broiler.
2. Place the peppers on a baking sheet and broil, turning every couple of minutes with tongs, until they are blistered and somewhat blackened on all sides. (Alternatively, you can char the peppers on a grill.) Transfer to a bowl, cover with plastic wrap, and let steam for about 10 minutes.
3. Lay a pepper on a cutting board near the sink and slice or gently pull off the stem. Let any juice from the pepper drain into the sink. Cut the pepper in half and scrape off the charred skins, seeds, and innards. Cut the halves lengthwise into thin strips, about ¼ inch thick. Clean and slice the remaining peppers and transfer them to a heatproof bowl. Stir in the capers and parsley.
4. Bring the vinegar, water, sugar, salt, and garlic to a boil in a saucepan set over medium-high heat. Boil the brine for 2 minutes to dissolve the sugar and salt, and then pour it over the peppers. Let steep for 1 hour.
5. Drain the peppers, reserving a little of the brine. Pack the peppers tightly into the sterilized jars. Spoon 1 tablespoon brine over the peppers; then fill each jar with enough oil to cover the peppers completely. Cover tightly and let sit at cool room temperature for 24 hours. Check to make sure the peppers are still submerged; if not, add more oil.
6. Let the peppers cure for at least 2 days before using, then store in the refrigerator for up to 3 months. To serve, remove from the jar only as much as you plan to use and let it come to room temperature. Top off the jar with more oil as necessary to keep the remaining peppers submerged.