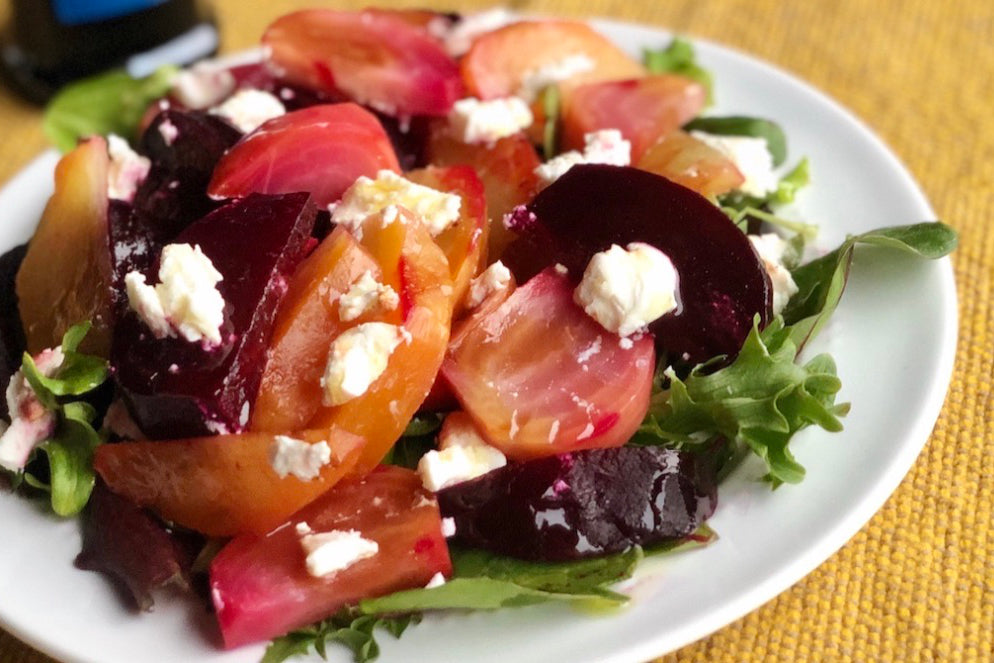 Jenny made this lovely beet recipe with our Rasara EVOO from Frantoio di Cornoleda in the Veneto in Italy. It is so quick, easy and flavorful. Give it a try!
1 ½ pound beets (3 to 5 medium), 1 inch of tops and tails attached
1 Tbs. red-wine vinegar
1 Tbs. Olioveto cooking EVOO
Optional: 2 Tbs. red wine
8 ounces of fresh goat cheese
Olioveto Rasara EVOO for finishing
Olioveto 10-year aged balsamic for finishin
Directions
Preheat oven to 450°
Wash the beets and place them in a roasting pan. Drizzle with the red wine vinegar, 1 Tbs Olioveto cooking EVOO and wine, if using.  Cover the pan with a tight-fitting lid or aluminum foil. Roast until tender when pricked with a fork, 40 to 60 minutes, depending upon the size of the beets.  Remove the pan from the oven and carefully lift the lid or foil.  Let the beets cool.
Once you can touch the beets, use your hands or a paring knife to remove the top and tail of each beet. Then apply pressure to the skin and it will slide right off if the beets are cooked enough.  If not, use a paring knife to remove the skin.
Dice the beets or slice them into half moons and toss with Olioveto's Rasara EVOO and some salt.
Crumble the goat cheese on top and serve on a bed of greens with a drizzle of Olioveto's 10-year aged balsamic vinegar.
Another easy and delicious recipe to enjoy your scrumptious EVOO! And, really, it doesn't get more simple than this.
We love to talk to you about your favorite extra virgin olive oil uses. Share yours below. Contact us to set up a tasting or tasting party. You can also visit our booth at the upcoming summer farmer's market in Telluride.