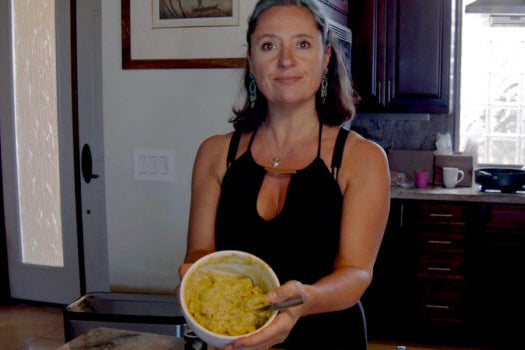 Another installment from my time spent in Hawaii with our friend and mentor, Maria Paola Gabusi (affectionately known as Maripa). Maripa is an EVOO tasting panel leader extraordinaire and director of the prestigious and stringent Leone d'Oro olive oil competition in Lake Garda, Italy. We were there at the invitation of some of the resorts on the Big Island for paired tastings and dinner with their guests and for guided tastings with their chefs.  Maripa is a world-renowned expert on olive oil, its quality, taste profiles, and defects (that remove it from the extra virgin category).  She brought that expertise, together with her sense of fun, to the tastings, and we had a great time.
Guacamole!  We literally ate buckets of guacamole.  We found huge, beautiful avocados, and Maripa got to work making an Italian-style guacamole.  As you will see, olive oil is a big part of Maripa's guacamole, and it lends both a ton of flavor and a really smooth consistency.  It is different than Mexican guacamole but utterly addictive.
To order some of the EVOOs they are tasting in the session, head to our store. We are happy to safely ship you some of the finest EVOOs available.