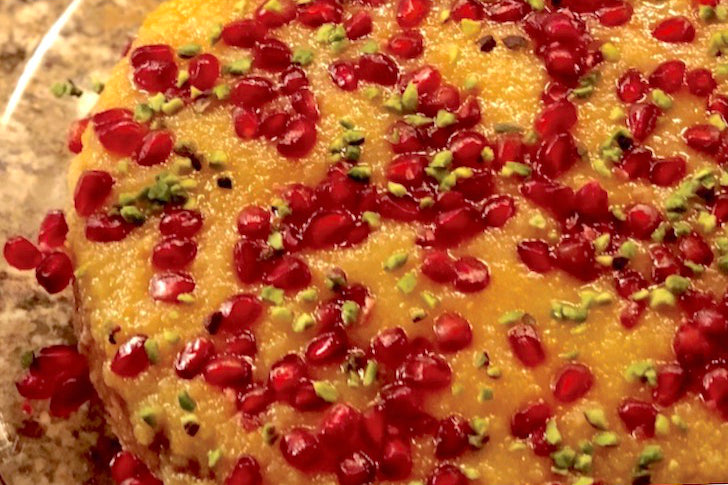 During the holidays I was able to take some time to bake a cake. I had some fresh new pistachios from my friends in Bronte, Italy, along with their pura pistachio paste. I found a recipe from Pure Vegan cookbook by Joseph Shuldiner, and then made some adjustments to get the perfect cake that was loved by all. It is simple and packs a punch in both flavor and presentation. I used our Bio Blend from Torre Bianca to make it extra special. Even if not at the holidays, it still looks and tastes so special. Give it a try.
CAKE
1/3 cup extra virgin olive oil, plus more for greasing the pan
2/3 cup shelled pistachios (3 ounces), toasted
1/2 cup plain unsweetened non-dairy yogurt (cashew is my favorite)
6 oz. soft silken tofu
3/4 cup sugar (I prefer coconut palm suger)
1 teaspoon pure vanilla extract
1 cup all purpose flour
1/2 teaspoon baking powder
1/2 teaspoon banking soda
1/4 teaspoon salt
* I also added 2 Tablespoons of Pistachio Pura for extra pistachio flavor, if you can find it.
TOPPING
1 orange (entire orange, minus the seeds)
1 lemon (include only the juice and outer zest of the lemon)
1 cup water
1/2 cup sugar (again, coconut palm sugar is great)
1/4 cup Grand Marnier or other orange liqueur or flavoring
1/4 cup shelled pistachios (1 1/4 ounces) toasted and coarsely chopped
1/4 cup fresh pomegranate seeds
Directions to make the cake:
Preheat oven to 325 degrees F
Oil the bottom and sides of a 9" cake pan and line the bottom with parchment paper.
In a food processor, pulse the pistachios until roughly ground. Don't overdo it.
In another bowl, mix together the yogurt, tofu, sugar, olive oil and vanilla (and pistachio pura, if you have it), and beat at medium speed until well combine.
Sift flour, banking powder, banking soda, and salt into a separate bowl. Then, add to the tofu mixture and beat until well combined.
Add the pistachios and beat until incorporated.
Pour the batter into the prepared cake pan and bake for 25-30 mins. Until a toothpick comes out clean.
Let the cake cool briefly, then invert onto a wire rack, remove the pan, and let cool completely.
To make the topping:
Slice the orange in half then cut into 1/4 inch slices.
Squeeze and zest the lemon.
Remove all seeds from both.
In a medium saucepan, combine the orange, lemon juice and zest, water, sugar and Grand Marnier.
Bring to a boil over high heat, stirring occasionally, then lower the heat, cover and simmer until the fruit is soft and pliable and starting to break down, about 1 hour.
Transfer the mixture to a food processor and pulse repeatedly until thick and chunky.
Spread the topping evenly over the top of the cake. Garnish with chopped pistachios and pomegranate seeds before serving.
Enjoy!
If you would like to have an EVOO tasting/lesson, contact us.[/vc_column_text][/vc_column][/vc_row]