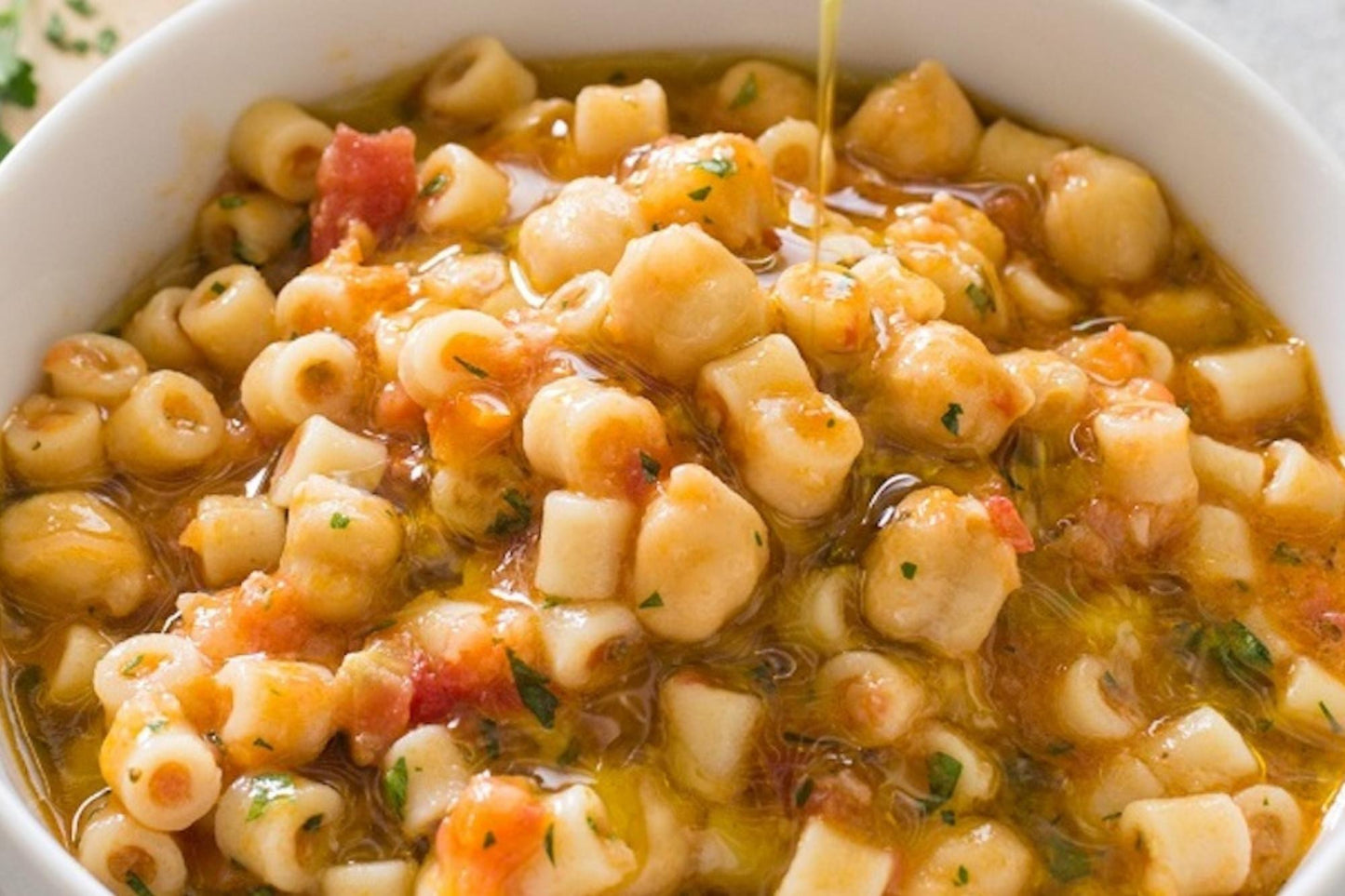 Serves: 8 to 10
Ingredients
500g chickpeas, soaked overnight and cooked till just past al dente with just a bit of extra virgin olive oil (EVOO) or in a pressure cooker without EVOO - (NO SALT)
500g small pasta, like macaroni or similarly sized pasta
4 or 5 large cloves of garlic, roughly chopped
2 or 3 small and spicy hot dried chile peppers, crushed a bit, or pepperoncini to taste
8 to 10 anchovy fillets, those from a jar in oil, not the very salty kind, roughly chopped
1 large onion, diced
2 good quality stock cubes, chicken or vegetable preferably
1 medium potato, peeled and cut into smallish cubes
Extra virgin olive oil
A generous bunch of flat leaf parsley, washed, picked and chopped
A few sprigs of fresh rosemary to infuse the olive oil
Directions:
When the chickpeas are cooked, leave them to sit in their water.
Put 1 and a half liters of water into a pot, and melt one and a half stock cubes in the water over a gentle flame.
In a large, heavy-bottomed pot or dutch oven, heat a generous slosh of olive oil and with the flame not too high, melt the garlic, chile and two-thirds of the anchovies.
When the garlic/chile/anchovy mixture is gently melting, add the onion and let it melt, too.
When the onion starts to turn gently golden, add the chickpeas from their liquid with a slotted spoon to the dutch oven, and then add the prepared stock.
Simmer the mixture for 5 minutes, then add the potato and simmer for another 25 minutes.
Taste the soup and if it needs more salt, crush up the remaining stock cube and sprinkle it in instead of salt, bit by bit, and the last third of the anchovies.
When the soup has thickened, check how much liquid there is. If it needs more, add a little of the chickpea water and bring to a boil.  (You'll need enough liquid to cook the pasta.)
Add the pasta and cook until the pasta is al dente.
To serve: Ladle a generous spoon of the soup into a large bowl and generously cover with chopped parsley, grated parmesan and extra virgin olive oil that has been infused for several with rosemary. Alternatively, add the rosemary to the soup for the last few minutes of cooking.  Remove the rosemary before serving.
Let us know how you do with the recipe!
Also, we love to talk to you about your favorite extra virgin olive oil uses. Share yours here or visit our booth at the upcoming summer farmer's markets in Telluride and Mountain Village.
If you would like to have an EVOO tasting/lesson, contact us.