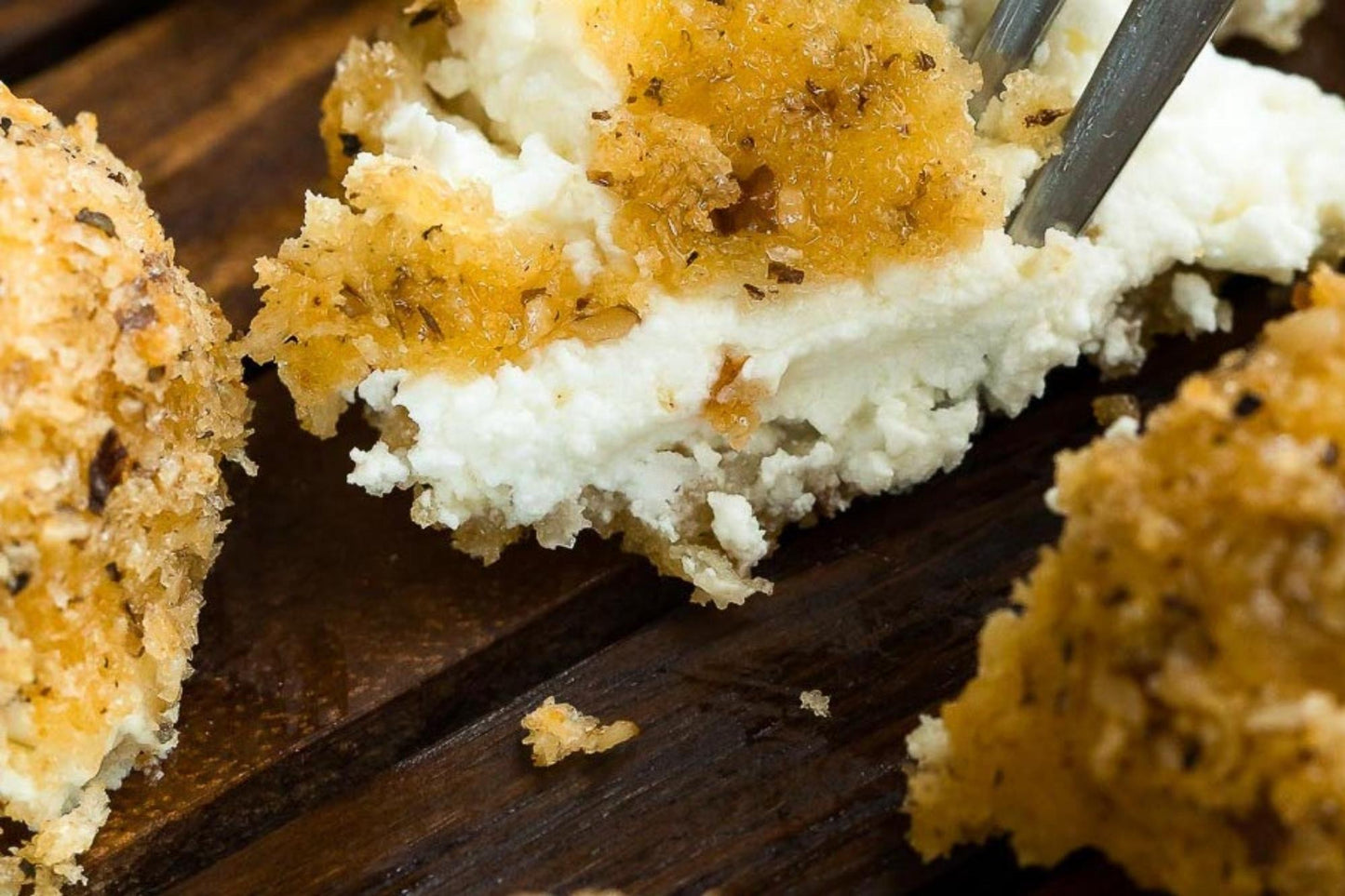 I used to have this all the time when I lived in Brussels. Now, I can make it at home - yum!
8 oz. fresh goat cheese log
1/2 cup panko bread crumbs
1 tsp. dried thyme
1/2 tsp. freshly ground black pepper
1/4 cup flour
pinch of kosher salt
1 egg, beaten
olive oil for frying
fresh salad greens
high quality balsamic vinegar
fresh extra virgin olive oil for dressing the greens
Directions:
Chill the goat cheese in your freezer for 15 minutes.
Wash your greens and place in a medium bowl.
Place the flour in a bowl, the beaten egg in a second bowl, and the panko bread crumbs in a third bowl. Line the bowls up in order beginning with the flour.
Line a cookie sheet with wax paper or parchment paper.
Take the goat cheese out of the freezer and slice into 1/2-inch thick rounds with a non-serrated knife. Wipe the knife with a warm, wet paper towel between slices. If the slices crumble, just push the crumbs back together to form a round.
Now, dredge the rounds first in the flour, then dip into the egg, and lastly, roll in the panko bread crumbs. As you finish each round, place it on the parchment-lined cookie sheet.
Heat a little of the oil for frying in a non-stick skillet over high heat until shimmering. Gently lay the cheese rounds in the pan with plenty of room around each slice (you may need to fry in batches).  The edges of each round should sizzle as you lay it in the pan, otherwise your oil is not hot enough.
The slices cook quickly! Once the bottoms are brown, gently flip each round and cook the other sides until brown. Gently remove to a plate lined with paper towels.
Dress the greens with Olioveto EVOO, balsamic vinegar, salt and pepper and toss.  Portion the greens onto 4 plates and top each with 2 of the goat cheese rounds.
We love to talk to you about your favorite extra virgin olive oil uses. Share yours here or visit our booth at the upcoming summer farmer's markets in Telluride and Mountain Village.
If you would like to have an EVOO tasting/lesson, contact us.