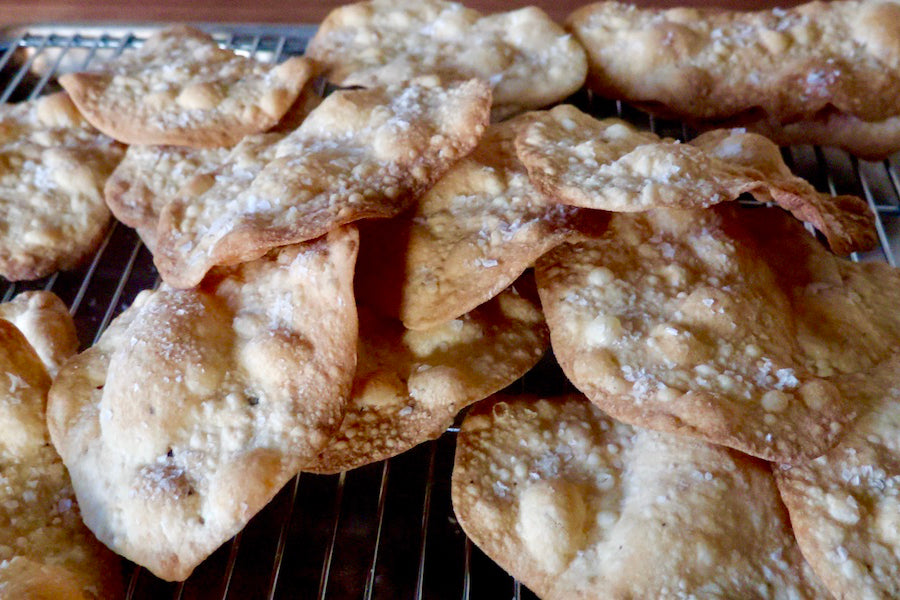 Jenny was at it again, baking up a storm. This time it was Olive Oil Crackers from a favorite recipe in the book - Ottolenghi The Cookbook. Made good use of Olioveto's Extra Virgin Olive Oils (EVOO). This time it was the Bio Blend from Torre Bianca. They are perfect fresh from the oven, as crisp as can be, served with cheeses or dips. Makes about 25 crackers.
Ingredients
2  cups / 250 g all-purpose flour, plus extra for dusting (14 2/3 ounces) bread flour
1 teaspoon baking powder
scant 1/2 cup / 115 ml water
5 teaspoons / 25 ml olive oil, plus extra for brushing
1/2 teaspoon salt
1 teaspoon paprika
1/4 teaspoon cayenne pepper
1/4 teaspoon freshly ground black pepper
coarse sea salt for sprinkling
Directions
In a large bowl, mix together all the ingredients except the sea salt to form a soft dough. You can do this by hand or in a mixer fitted with a dough hook. Work it until you get a firm consistency, then cover with plastic wrap and leave to rest in the fridge for 1 hour.
Preheat the oven to 425 degrees F / 220 degrees C. Turn the dough out oonto a clean work surface. Have a bowl of flour for dusting ready at the side. Use a  large, sharp knife to cut off walnut-size pieces (roughly 1/2 oz / 15 g each) from the dough. Roll out each piece as thinly as possible with a rolling pin, dusting with plenty of flour. They should end up looking like long, oval tongues, almost paper-thin.
Place the crackers on a baking sheet lined with parchment paper. Brush them with plenty of olive oil and sprinkle with sea salt. Bake for about 6 minutes, until crisp and golden.
Enjoy! Find the EVOO that Jenny used in this recipe  here -
Bio Blend from Torre Bianca
. It is on sale now. Find it
here
.